3 nights Holiday in FX Hotel Taipei.
Staying Date : 2019.09.16-2019.12.30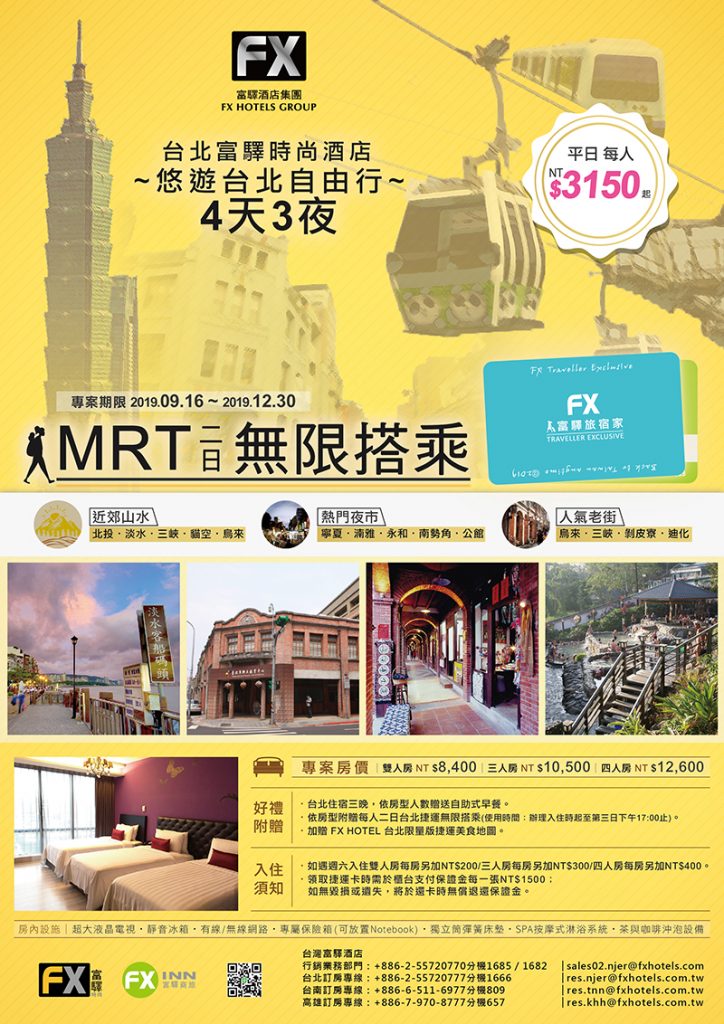 Take an unlimited number of rides on the Taipei Metro in 2 Days.
3 nights Holiday in FX Hotel Taipei. Starting from NT$8400.
─Room Rates (3 nights)─
‧ Double/Twin Room NT$8,400│Triple Room NT$10,500│Family Room NT$12,600‧
─Tourist Attraction─
‧ Taipei Suburb : Beitou, Tamsui, Sanxia, Maokong, Wulai.
‧ Popular Night Market : Ningxia Night Market, Banqiao Nanya Night Market, Lehua Night Market, Nanshijiao Xingnan Night Market, Gongguan Night Market.
‧ Popular Old Street : Wulai Old Street, Sanxia Old Street, Bopiliao Old Street, Dihua Street.
─Accommodations regulation─
‧ Extra charge on the Saturday: Double or Twin room NT$200 / Triple room NT$300 / Family room NT$400.
‧ We require a deposit NT$1, 500 per card when you activate the MRT PASS. We will refund the deposit when you return the pass without any damage or lost.
─Extra benefits─
‧ Complimentary daily breakfast.
‧ The number of MRT 48-HOUR PASS will be provided accordance with room type.
‧ FX Hotel's Limited Edition Taipei Tourism Gourmet Map.
─Room Facilities─
Flat-Screen LCD TV, Refrigerator, Free High Speed/Wireless internet, Personalize Safe, Pocket Spring Mattress, Spa Massage Feature Shower, Coffee & Tea.